Sydney Scoliosis Clinics

ScoliCare has two clinics in Sydney providing scoliosis assessments and non-surgical treatment to patients. Our clinics are in Kogarah and Wahroonga. Telehealth consultations are also available. Contact us to organise an appointment today.

Learn More

Everyone has a

story to tell

Scoliosis patients are the reason we are here. It is their stories and journeys that need to be heard to raise awareness and help other sufferers find help and support.

Please note: This video is for the promotion of scoliosis awareness and the importance of early detection, and not the services of any particular health service.

We are leaders in

Scoliosis Treatment

We understand that every case of scoliosis is unique. Each patient is recommended the treatment best suited to their case.

Learn More

Scoliosis Specific

Exercise Programs

Specific scoliosis exercise and physical therapy programs, such as ScoliBalance, can play an important role in scoliosis treatment.

Each scoliosis case

is different

and requires accurate assessment and appropriate treatment. Our aim is to provide the right scoliosis treatment at the right time.

Learn More

Have you heard that sport

is bad for scoliosis?

Dr Du Plessis explores the key things to consider when choosing and participating in sporting activities
Scoliosis Treatments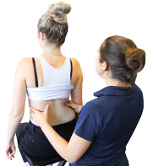 The most important goal of early intervention in scoliosis is prevention of the need for spinal fusion surgery. Effective, conservative scoliosis treatments have been shown in published studies to reduce the incidence of surgery. In particular, bracing and the ScoliBalance Exercise Program have demonstrated the ability to reduce the need for surgery in small to moderate curves less than 45 degrees when compared against non-treated patients and patients treated with other methods.
Learn More
The first hint that a scoliosis may be developing is the appearance of abnormal posture. Slouching, one shoulder higher than the other, one hip higher than the other, or uneven shoulder blades are all signs that a person might have a scoliosis. In children, it is so important to recognise these signs early as much can be done to help correct the scoliosis as they grow. In adults, scoliosis is known to contribute to chronic back pain and postural collapse. Our clinicians accurately measure the degree of curve and predict the likelihood of progression.
Learn More
Contrary to popular belief, standard physical therapy and exercises such as swimming or yoga do not help prevent, correct, nor stop the progression of scoliosis. However, there are special exercise and rehabilitation programs that have been designed to address the scoliosis curve and these have shown to be very effective in certain cases. Our clinics use the ScoliBalance approach. The ScoliBalance concept was created by Dr. Jeb McAviney (Chiropractor) drawing on his clinical experience treating scoliosis using a combination of Chiropractic Biophysics, SEAS and Schroth (BSPTS) techniques. Also the use of specially designed rehabilitation aids can improve treatment results.
Learn More
The ScoliCare clinics in Sydney offer a unique bracing method creating truly custom made 3D spinal braces for patients with scoliosis and kyphosis.   The brace is created using 3D imaging software.  A 3D scan of a patient's body is taken, and the brace is custom made based on their unique scan and type of scoliosis. This type of brace is designed to improve, not just hold scoliosis.
Learn More
We provide 3D designed and customised scoliosis bracing with a specific brace designed for night wear only. This night time bracing option is an effective treatment for small scoliosis curves in younger children. The advantage of this type of  brace is that it only needs to be worn during the sleeping hours. It is suitable for simple curves measuring 10-25 degrees. In cases where a scoliosis is picked up early and many years of treatment may be required, the night time brace is an effective treatment and has low impact on the child's daily living.
Kyphosis (or hyper-kyphosis) patients have the option of a 3D designed, customised  brace specially designed for stabilising and correcting Kyphosis including:
Scheuermann's Kyphosis
Hyper Kyphosis
Thoracolumbar Kyphosis
Anterior Sagittal Balance
Learn More
We also offer 3D designed, custom scoliosis bracing designed specially for adults with both pre-existing and degenerative adult scoliosis.
Adult scoliosis patients may only need to wear the brace part-time each day to get significant pain relief and postural improvement. Most braces designed for adults are low profile that are nearly invisible under clothing.
Brace wear treatment can also be combined with a scoliosis specific exercise program.
"The key to successful scoliosis treatment is recommending the right treatment at the right time".
Scoliosis is a complicated condition. There is no single method that has proven to be effective in every case or suitable for every patient. At our Sydney scoliosis clinic we offer expert analysis and a range of scoliosis treatments best suited to the patient and their stage and type of scoliosis. Scoliosis treatments include general posture improvement and pain relief, rehabilitation, bracing, and pre and post surgical care.
The ScoliCare Clinic Sydney works closely with GPs and allied healthcare providers (chiropractors, physiotherapists, osteopaths) to ensure a team care approach to treatment. Where surgical consultation is necessary, cases are co-managed with some of the best spinal surgeons in Australia.
Read More
Scoliosis Screening
We have created a simple screening tool to help you identify if you or your child may be developing a scoliosis. For a more in-depth assessment, please book an examination at our clinic.
Start
Questions & Answers
We are always available to answer your questions by phone or email. Here are the top 5 questions asked by our patients:
Read More